Everything You Need To Know About #CBD #health #wellness #fitness
Everything You Need to Know About CBD
CBD is all the rage these days. Everyone seems to be talking about it, but what exactly is CBD and what does it do?
---
What Is a Cannabinoid?
Perhaps you have heard CBD called a cannabinoid. The term cannabinoid refers to any compound that triggers your endocannabinoid system by activating its receptors. Cannabinoids are produced naturally in your body, but they can also come from other sources.
The cannabinoids that are naturally produced in your body are called endocannabinoids. Cannabinoids that come from plants are called phytocannabinoids. CBD is one example of a phytocannabinoid, though there are many. There are also synthetic cannabinoids.
[youtube https://www.youtube.com/watch?v=FJ-qXoCVhMc?rel=0&enablejsapi=1&origin=https%3A%2F%2Fwww.doterra.com]
How Do Cannabinoids Work?
A cannabinoid is anything that triggers your endocannabinoid system (ECS). So what exactly is the endocannabinoid system? The ECS plays an important role in regulating many functions within your body, including the inflammatory system, immune function, sleep, appetite, digestion, pain receptors, hormones, reproductive function, and memory. Your body makes endocannabinoids as needed to help with this regulation. These endocannabinoids activate your cannabinoid receptors—cannabinoid receptor 1 (CB1) and cannabinoid receptor 2 (CB2)1.
CB1 receptors are found mainly in the brain and throughout the central nervous system2. They are primarily associated with pleasure and reward pathways.
CB2 receptors are found mainly in the immune system3. They are found on the surface of white blood cells throughout the body, including muscles, skin, and vital organs. CB2 receptors are also linked to the regulation of the inflammatory system. CB2 receptors are not as widely distributed throughout the body as CB1 receptors4.
An Example
Have you ever felt the famed "runner's high"? You can thank your endocannabinoid system for that. After a period of strenuous exercise, the body begins to produce an endocannabinoid called anandamide. Anandamide activates both CB1 and CB2 receptors. When the anandamide activates the CB1 receptors, it produces an almost euphoric feeling while the activation of the CB2 receptors soothes discomfort in the muscles and joints.
THC & CBD
Delta-9 Tetrahydrocannabinol (THC) is one of "more than eighty biologically active chemical compounds" found in cannabis5. THC is a psychoactive cannabinoid and causes psychoactive effects or a "high." THC activates both CB1 and CB2 receptors.
Cannabidiol (CBD) is another compound found in cannabis. CBD does not have the same psychoactive properties as THC. CBD directly interacts with CB1 and CB2 receptors, but the interaction is so weak it is inconsequential6. CBD does still affect your endocannabinoid system, but it actually affects it indirectly and by a different mechanism than most cannabinoids.
CBD acts on an enzyme called fatty acid amide hydrolase (FAAH). FAAH breaks down the before mentioned anandamide. CBD slows down FAAH's activity, which leads to increased levels of anandamide in the body7. Anandamide is an endocannabinoid the body makes which affects both CB1 and CB2 receptors, resulting in increased feelings of euphoria (CB1) and soothing of inflammation in tissues (CB2).
Is CBD Safe and Effective?
It seems that CBD has flooded the marketplace and can be found in every product imaginable, from mascara to doggy treats. Amidst this excitement, however, there are a few reasons you should remain cautious.
The FDA acknowledges, "[S]ome companies are marketing products containing cannabis and cannabis-derived compounds in ways that violate the Federal Food, Drug and Cosmetic Act (FD&C Act) and that may put the health and safety of consumers at risk."8
There is relatively little medical and scientific research regarding CBD. This is due in large part to legal and research limitations. Some studies indicate promising benefits, but the research is young, and it is still too early to come to any definitive conclusions about the perceived health benefits of CBD.

Is CBD Legal?
A lot goes into determining whether a substance is legal. It is important to start with some background.
The Food and Drug Administration (FDA) is responsible for reviewing and approving applications to ensure that new drugs meet the standards of the Food, Drug, and Cosmetic Act (FD&C Act).
The Drug Enforcement Administration (DEA) is responsible for enforcing the Controlled Substances Act. They also regulate "the handling of all controlled substances, including those being used by researchers to conduct studies."9
"The Controlled Substances Act (CSA) places all substances . . . regulated under existing federal law into one of five schedules. This placement is based upon the substance's medical use, potential for abuse, and safety or dependence liability."10
"[Marijuana] is listed in Schedule I of the CSA due to its high potential for abuse, which is attributable in large part to the psychoactive effects of THC, and the absence of a currently accepted medical use of the plant in the United States."11  (Exceptions12)
However, the Agriculture Improvement Act of 2018 made some cannabis no longer subject to the Controlled Substances Act by defining hemp as "Cannabis . . . with a delta-9 tetrahydrocannabinol [THC] concentration of not more than 0.3 percent."13 This means hemp can be grown in states whose laws allow the industrial production and sale of hemp. This is contributing to the purported presence of CBD in various products, including alleged CBD oil. Any plant containing an excess of 0.3 percent THC is considered marijuana and is therefore a Schedule I controlled substance under the CSA and thus subject to the DEA. Even if something is considered hemp (according to the 2018 Act) by containing less than 0.3 percent THC, it is still subject to all other relevant federal laws.14
The 2018 Act did not remove the FDA's "authority to regulate products containing cannabis or cannabis-derived compounds under the FD&C Act and . . . the Public Health Service Act (PHS Act)."15 This means that any product containing cannabis or cannabis compounds, such as CBD, is still subject to the same laws as any other drug or dietary supplement. This includes CBD oil. Any product containing CBD, regardless of its THC content, cannot currently be sold as a dietary supplement.16 This is because the FDA has approved neither THC nor CBD under the FD&C Act.17
Exceptions18
Drug Approval Process of Schedule I Substances
Conducting clinical research for the drug approval process of Schedule I substances requires at least the following:
Filing a registration application with the DEA
Initial review of the application and research procedures by the FDA
Working with the FDA to submit an application to the Center for Drug Evaluation and Research (CDER)
Obtaining the controlled substance (in this case, cannabis) from the National Institutes of Health (NIH)
Conducting clinical trials
Continued review of research procedures and security measures by the FDA
Compiling scientific data and submitting it to the FDA for approval of controlled substance
Companies that are selling products said to contain CBD are bypassing this process. Their products are not meeting FDA standards because the FDA has not set any. The FDA reviews "applications to market drugs to determine whether proposed drug products are safe and effective for their intended indications."19 Without FDA oversight, "the purity and potency of the drug may vary considerably."20
Purity
According to gas chromatography and mass spectrometry (GC/MS) analyses conducted by doTERRA's analytical chemists, THC is found in high concentrations in many brands of cannabis oil. THC is found in both hemp and CBD oil in more than just trace amounts.
Without FDA oversight of CBD, it is difficult to be certain of both the amount and purity of CBD a product may contain. Regardless of what a product may claim, it may contain no CBD at all, while others may vary in purity or consistency of formula. "Over the past several years, FDA has issued several warning letters to firms that market unapproved new drugs that allegedly contain cannabidiol (CBD). As part of these actions, FDA has tested the chemical content of cannabinoid compounds in some of the products, and many were found to not contain the levels of CBD they claimed to contain."21
In the case of "CBD oils," the CBD is combined with a carrier oil. This is because CBD is merely an isolate and not an oil by itself. Depending on what CBD is extracted from and depending on its quality, CBD is heavily diluted using varying amounts of a carrier oil.
A doTERRA chemist has stated, "[O]ur own internal investigation involving analytical testing and evaluation has found that various CBD oils on the market do contain significant levels of THC and therefore could very likely trigger a psychoactive response and/or positive drug test. Our evaluation has also shown that commonly purchased brands of CBD oil can vary greatly in their claimed CBD content."22
Why Isn't doTERRA Producing a CBD Oil?
Due to issues of legality, as well as limited research and other concerns, doTERRA is not making any CBD products or oils at this time. We are committed to our standard of CPTG Certified Pure Therapeutic Grade™ oils and nothing less. Right now, it is not possible to deliver a CBD oil that meets our CPTG™ standards.
Are There Alternatives?
While CBD may not be a good option at this point, there are other ways to boost the health of your endocannabinoid system.
Beta-caryophyllene (BCP) is a sesquiterpene found in hundreds of different plant species. It is also known as a cannabinoid because it interacts directly with CB2 receptors around the body, soothing tissues and helping to manage healthy inflammatory responses.23Remember that any compound (group of molecules) that acts on either or both of the cannabinoid receptors is a cannabinoid. BCP does not affect CB1 receptors and there is no risk of psychoactive effects.24
Beta-caryophyllene (BCP) in Copaiba
BCP is the main chemical constituent in Copaiba essential oil, which comes from distilling the oleoresin of the copaiba tree. A GC/MS analysis confirmed that doTERRA Copaiba essential oil has approximately 55 percent BCP content—the highest BCP content of any known oil.
Research
There is substantial evidence supporting the therapeutic benefits of oral supplementation of beta-caryophyllene. Further human clinical trials are needed, but current studies are already quite promising—as little as 1–2 drops of Copaiba oil produce noticeable results in humans.
Purity
All doTERRA essential oils, including Copaiba, are CPTG Certified Pure Therapeutic Grade. This means that the oil is pure: there are no added fillers, synthetic ingredients, or harmful contaminants that would reduce its efficacy. Each batch of oil undergoes rigorous internal and third party testing to confirm that oils are meeting our quality standards. Every bottle of oil has a unique Quality ID that you can use to view the GC/MS test results from an independent, verified third party lab on Source to You.
Potency
Because doTERRA Copaiba essential oil has approximately 55 percent BCP content, the amount of oil needed to produce noticeable results is incredibly small—only a couple of drops. doTERRA Copaiba oil is actually a blend of oils that come from four species of the copaifera tree: Copaifera reticulata, Copaifera officinalis, Copaifera coriacea, and Copaifera langsdorffii. This blend of multiple copaifera species contributes to a more potent and effective version of the essential oil.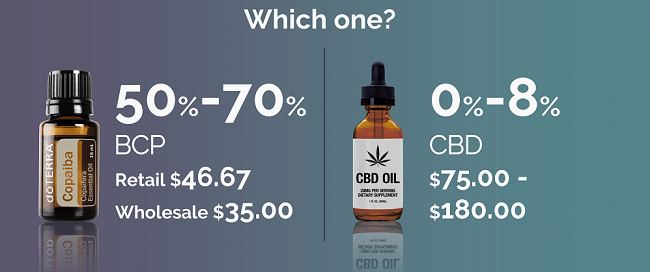 Price
Because Copaiba is so pure and potent—needing only a drop or two for the BCP to start affecting the human body—its price point as a potential natural solution is affordable. This becomes especially true considering the cost of most CBD products and oils on the market—products and oils that aren't substantiating the actual amount and purity of CBD you are receiving in their product.
Pathway
We know that BCP activates CB2 receptors directly. This means that you can have confidence and assurance in BCP's ability to interact with the endocannabinoid system. Additionally, knowing exactly how BCP triggers the endocannabinoid system (by directly activating CB2 receptors), we are able to collect more reliable information about dosage and effects than we can at this point with CBD.
Copaiba oil is tried and tested. Their are a host of health benefits with some of these listed below.
Supports the health of the cardiovascular, immune, digestive and respiratory systems*
Powerful antioxidant*
Helps calm, soothe, and support the nervous system*
Promotes clear, smooth skin and reduces the appearance of blemishes
Getting Copaiba and other essential oils at wholesale prices with health support 
Error: Contact form not found.
Notes
---
1Battista N, Di TM, Bari M, Maccarrone M. The endocannabinoid system: an overview. Front.Behav.Neurosci. 2012; 6:9.
Piomelli D. The endocannabinoid system: A drug discovery perspective. Curr Opin Investig Drugs. 2005 Jul; 6(7):672-9.
2Howlett AC, Breivogel CS, Childers SR, Deadwyler SA, Hampson RE, Parrino LJ. Cannabinoid physiology and pharmacology: 30 years of progress. Neuropharmacology. 2004; 47 Suppl 1:345-58.
3Bouaboula M, Rinaldi M, Carayon P, Carillon C, Delpech B, Shire D, Le Fur G, Casellas P. Cannabinoid-receptor expression in human leukocytes. Eur J Biochem. 1993 May 15; 214(1):173-80.
4Petrocellis PL, Di Marzo V. An introduction to the endocannabinoid system: From the early to the latest concepts. Best Pract.Res.Clin.Endocrinol.Metab. 2009 Feb; 23(1):1-15.
5U.S. FOOD & DRUG ADMINISTRATION (FDA), FDA Regulation of Cannabis and Cannabis-Derived Products: Questions and Answers, What Are Cannabis and Marijuana? 2 April 2019 https://www.fda.gov/NewsEvents/PublicHealthFocus/ucm421168.htm.
6Pertwee RG. The diverse CB1 and CB2 receptor pharmacology of three plant cannabinoids: delta 9-tetrahydrocannabinol, cannabidiol and delta 9-tetrahydrocannabivarin. Br J Pharmacol. 2008 Jan; 153(2): 199–215.
7Leweke FM, Piomelli C, Pahlisch F, et al. Cannabidiol enhances anandamide signaling and alleviates psychotic symptoms of schizophrenia. Translational Psychiatry (2012) 2, e94; doi:10.1038/tp.2012.15.
8FDA, supra note 5.
9Drug Enforcement Administration (DEA), DEA Eases Requirements for FDA-Approved Clinical Trials on Cannabidiol, 23 December 2015 https://www.dea.gov/press-releases/2015/12/23/dea-eases-requirements-fda-approved-clinical-trials-cannabidiol. 
10DEA, The Controlled Substances Act https://www.dea.gov/taxonomy/term/701 (29 April 2019).
11FDA, supra note 5, What Are Cannabis and Marijuana? Food, Drug, & Cosmetic Act (FD&C Act), 21 U.S.C. § 802 (16) https://www.law.cornell.edu/uscode/text/21/802. 12FDA, supra note 5.
13Agriculture Improvement Act of 2018, Pub. L. 115-334, Sec. 297A. Definitions https://www.congress.gov/bill/115th-congress/house-bill/2.
14FDA, supra note 5, Is it legal for me to sell CBD products?
15Id. How does the 2018 Farm Bill define hemp? What does it mean for FDA-regulated products? FD&C Act, 21 U.S.C. § 802 https://www.law.cornell.edu/uscode/text/21. Public Health Service Act, 42 U.S.C § 6 (A) https://www.law.cornell.edu/uscode/text/42/chapter-6A.
16FD&C Act, 21 U.S.C. § 321 (ff)(3)(B) https://www.law.cornell.edu/uscode/text/21/321.
17FD&C Act, 21 U.S.C. § 355 https://www.law.cornell.edu/uscode/text/21/355. FD&C Act, 21 CFR § 312.2 https://www.law.cornell.edu/cfr/text/21/312.2.
18FDA, supra note 5. FDA,
19FDA and Marijuana, 19 June 2018 https://www.fda.gov/news-events/public-health-focus/fda-and-marijuana.
20Id.
21FDA, Warning Letters and Test Results for Cannabidiol-Related Products, 2 April 2019 https://www.fda.gov/news-events/public-health-focus/warning-letters-and-test-results-cannabidiol-related-products.
22Cody Beaumont, doTERRA, A Chemist's Perspective: Cannabinoids, Cannabis, and Caryophyllene https://www.doterra.com/US/en/blog/science-research-news-a-chemists-perspective (29 April 2019).
23Gertsch J, Leonti M, Raduner S et al. Beta-caryophyllene is a dietary cannabinoid. Proc Natl Acad Sci U S A. 2008 Jul 1;105(26):9099-104. doi: 10.1073/pnas.0803601105. Epub 2008 Jun 23.
24A. Chicca et al., "Functionalization of β-caryophyllene generates novel polypharmacology in the endocannabinoid system," ACS Chem. Biol., vol. 9, no. 7, pp. 1499–1507, Jul. 2014.